Select a category
News 2018 - new fireworks, new experiences

Best price 200/20mm
61,1 €
Night breaker
67,4 €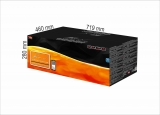 Signature range 175ran
273,1 €
13.
9.
DUMBUM even much more louder!
All news
Why Klásek pyrotechnics?
We are not selling
empty cases
You are getting the maximum for your money!
Own storage places
and shop
More than 1000 items at storage all year.
Klásek
it is tradition
Already 25 years lighting up the sky above you.